Zero Waste Humboldt is the only organization on California's northwest corner that specializes solely on waste reduction solutions. Inspired by the Redwood Coast's natural beauty and cultures, we educate the public, provide technical assistance and training, and advocate for sustainable materials management and Zero Waste policies. Our sense of urgency to conserve natural resources and fight climate change drives Zero Waste Humboldt to target all single use and wasteful products and packaging with proactive waste prevention strategies. Our public education campaigns create behavior change — not "green marketing happy talk."
ZWH's mission, services and community projects stem from our vision of a desired future with 0 waste, sustainable materials management, and reduced greenhouse gas emissions. Waste prevention will be accepted as the most effective method to protect our scenic rivers, Humboldt Bay, Pacific coastline, ranchlands, forests and Redwood Coast communities from plastic pollution, litter and roadside dumping.
Our residents, businesses, government agencies, community groups and schools will adopt Zero Waste values and habits. Systems will be implemented and infrastructure installed to direct discarded materials to second uses. Waste generation will decrease so much that the large trucks that haul Humboldt County's garbage to distant landfills will no longer be needed. Humboldt County's sustainable materials management practices will result in measurable and significant reduction of greenhouse gas emissions. We will achieve the Circular Economy in Humboldt with many of our special niche manufacturers using recycled feedstock materials to make their products.
ZWH adopted the Zero Waste International Alliance 10 Zero Waste Business Principles as the foundation for its work in 2012. Our top priority is to implement proactive waste prevention strategies to reduce waste generated in the first place, and our work with materials reuse, recycling and composting methods follows. Recycling-based economic development in Humboldt is essential to our mission; helping local businesses to integrate recyclable materials into their production processes creates the Circular Economy.
SERVICES
Central to our work are 3 core services: (1)public education for all segments of the local population, (2)advocacy and policy development with local and state government, and (3)technical assistance consulting and training for businesses, schools and government agencies to reduce the proliferation of single-use products and packaging – especially plastics.  Our services benefit the community in the following ways:
Natural resource conservation and achieving the highest & best use for discarded materials.

Business and local economic development.

Achieving compliance with new state and federal laws

Grassroots organizing, project management and leadership development

Preparing local youth with Zero Waste training to enter the workforce

Examples and models for how to implement Zero Waste practices
ZWH introduced the Zero Waste movement to Humboldt County in 2011, and incorporated as a nonprofit 501(c)3 organization in 2014, to provide contemporary sustainable materials management and Zero Waste practices.
ZWH is governed by a board of directors who reside in different Humboldt communities and bring experience in the Zero Waste method, public education aimed at behavioral change, developing collaborative partnerships, advocacy, different business sectors, and nonprofit management. An Advisory Board provide both pro bono expertise and project feedback; and information on community resources and partners.
ZWH accomplishes much of its work with a small staff, a growing network of partner organizations, more than 50 regular trained volunteers, and as a work site for Humboldt State University student internships, work-study employees, community service-learning projects, senior capstone projects, and graduate student research.
ZWH honors Humboldt businesses and community members who are exemplary models of successful commitment to Zero Waste in an annual Zero Heroes Night celebration.
To learn about Zero Waste Humboldt's services, please read SERVICES.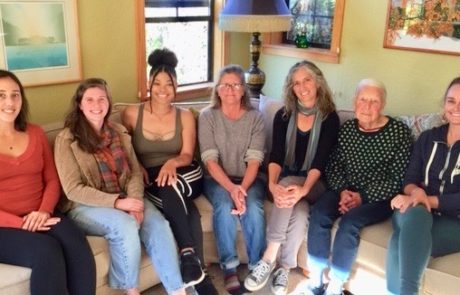 Morgan McEvoy, President, is an Arcata resident dedicated to a Zero Waste lifestyle, organic gardening, and helping our community be all that it can be. She is experienced in the hospitality industry. While she was the bar manager at Six Rivers Brewery, she enjoyed working with the owners to integrate Zero Waste practices into business operations.
Maggie Gainer, Vice-President, has worked in Zero Waste and community based economic development at the national, state, and local level for more than 40 years. She founded Gainer & Associates, a community development and waste reduction consulting firm in 1985, and directed HSU's Office for Economic & Community Development. A Bayside resident, she is committed to grassroots organizing and leadership development in the Zero Waste field.
Kelly Fortner, Secretary, graduated from HSU with Geology and Religious Studies degrees. She has a strong understanding of local geology and associated hazards as well as how religion plays a role in environmental concerns. In HSU's Center for Community-based Learning, she has supported students' academic internships, service-learning, and career preparedness. Kelly lives in McKinleyville, and is a graduate student in HSU's Environment & Community Graduate Program.
Denise Newman is the Natural Resources Nonprofit Projects Coordinator for Redwood Community Action Agency and has worked at RCAA for 18 years. She has a personal interest in climate science, permaculture, yoga, and backpacking; and is part of CREEC, the California Regional Environmental Education Community Network. She brings to ZWH her experience in team-building, natural/cultural resource interpretation, environmental education, and collaborative community project design and proposal writing.
Jenifer Sherman-Ruppe is the owner of Plastic Uniquely Recycled and creator of buttons, pendants, earrings made by hand with 100% recycled plastics, collected locally and sold worldwide. A Eureka resident, Jenifer is dedicated to supporting community and solving the problems caused by the overwhelming proliferation of plastics in our environment.
Cami Zapata is a Business Development Associate with Healthcare Reimbursement Solutions. She's an Arcata resident with a special interest in organic waste reduction. She brings to the ZWH board her expertise in grant proposal writing, website maintenance, marketing and business forecasting.
RESEARCHERS, PROJECT MANAGERS, CONSULTANTS
Candace Michael
conducts research and quantitative analysis for several ZWH projects. She converts tons of waste generated into greenhouse gas emissions and performs calculations on the energy, resources, and economic impacts of waste on the Redwood Coast. She also performs administrative and organizational support for the ZWH board of directors. Candace will graduate with a degree in Environmental Resources Engineering in June 2020.
Amy Whitlatch is the owner of Whitlatch Bookkeeping Service. Amy specializes in on-line QuickBooks bookkeeping for small businesses and nonprofits. ZWH board of directors contracts with Amy for its financial recordkeeping, nonprofit reporting, and full payroll services.
Namneet Kaur
is ZWH's HSU Business Intern for Spring 2020. She has assisted in updating website content, organizing and promoting our training events.
Gifford Hall is ZWH's Advocacy Coordinator. He updates the board of directors on developing and pending Zero Waste legislation and represents ZWH in meetings and in written positions with Humboldt County's government agencies.
Lisa Enge is ZWH's Arcata Business Packaging Reuse Coordinator. Lisa is spearheading this pilot project to help Arcata's downtown businesses reduce their packaging waste with an on-line packaging exchange information service.
Mail Address: PO Box 293 Arcata, CA 95518
Physical Address (by appointment only): 839 9th St Arcata, CA 95521